Lily's Tea Party
So, sometimes Beatrice A. Elf has to ask me for outside help when she gets her mind set on something. This year she had SUCH a great idea and I knew exactly who to ask. I can't share it yet, but I can tell you when I saw it, I cried. There aren't enough words for the talent of Jason McCorkle at The Moving Pencil. I highly, highly encourage you to check out his work. You might just find something you need for Christmas. … or your elf may need some help on an idea.
Daphne McCrain – Indian Trail, NC
---
Marvel Four
Jason has such a talent to capture an idea and expand it into something awesome. I have purchased several prints and custom illustrations to cover my husband's "Man Cave". Both of my son's, and my daughter have their first illustrations, and this Christmas my nephew will be receiving his. If you have an idea but aren't quite sure….he can help 'put it on paper'. He loves what he does and it shows in each project.
Kelly Dreher – Charlotte, NC
---
Washington Gambler
Jason is very creative, professional and very quick to respond! His work is incredible! Looking at the picture he created for me is like looking right into the eyes of the person I ordered it for! He captures not only their looks but their true essence and personality! I would highly recommend doing business with Jason and The Moving Pencil!
Lyndsay Meier – Fredericksburg, VA
---
Karate Goat Kick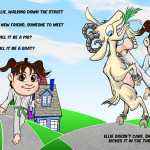 I came to know of Jason's work through a mutual friend several years ago when I still lived in NC. I'm in CA now, but I know who to go to for these unique gifts and illustrations. It's really fun to work with someone with Jason's eye for humor and color. Great combo for an artist. He has a great knack for putting words/descriptions into action! He recently illustrated a scene of a children's book I'd like to do someday, a gift for a five-year old friend. I think the drawing took a few days, once he began. Actually, the whole process, drawing, editing, finishing, took several days from start to finish. Super quick and professional. I loved the finished product. Jason also does sport team specific illustrations. I bought one and a gift certificate for an original for a fundraiser I put together here in CA and they were quite a hit.
Luci C. – Bay Area CA
---
Penn State Basketball
Jason is an amazing and talented artist. He took my ideas for my first custom illustration, and translated them into an awesome image. I currently have a variety of illustrations lining the walls of the man cave. They always get a great response from those that see them. He is my go to person for great gifts! I highly recommend Jason. His love for his work, shows in all of his illustrations.
Kelly Dreher – Mint Hill, NC
---
Circus Family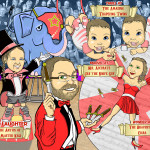 Jason is Amazing! I had first contacted him over a year ago to do a surprise piece for my husband and he came up with exactly what I had in mind! Recently, in Feb of 2015 he also Did another piece (family piece) for me. I mentioned what we were looking for and he hit the nail on the head! So incredibly excited we have a new FUN family piece to add to our family picture wall. I Would recommend his work to anyone!
Ciara Bullard – Fredericksburg, VA
---